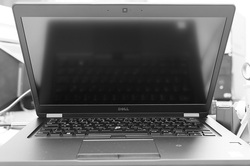 Kitsap Computing Seniors is a non-profit organization that refurbishes computers given through donation and distributes to families in need. They wipe the computers clean from hard drive storage and restore before they donate them. New Horizons Committee is a community outreach program of KCS that provides computers to those in need. They are asking for donations of used laptops and tablets to donate to low income families, people with disabilities, shelters and foster homes in need. They will bring the computer to your house and set it up for you and go as far as going over "basic" computer knowledge with the family. You can even choose to have Parental Control Software added to your computer. Ask Kitsap Computing Seniors about this option.
If you are interested in receiving a free laptop, please contact James Bromley.
kcsnewhorizons@gmail.com
888-901-5805 ext.2
If you are interested in donating your old laptop or tablet, bring it to Community and Family Services at our Port Orchard office location.
Kitsap Computing Seniors
www.kitsapcomputingseniors.org
---
---
Some of you have asked about Wild Waves tickets for foster kids for this summer as well as the annual school supply drive that is held at Wild Waves each year. We are sad to say that we have been notified that Wild Waves is under new management & the new owners have determined that they did not want to continue the collection days this year as has been done in the past. Unfortunately, this also means that they will not be providing us with tickets for foster families either.
---
Income Tax Information

With tax season approaching, we often receive questions regarding foster care money and taxes.

As an agency, we are not authorized to give out tax advice. We recommend you contact a tax accountant that would be able to give you accurate information. You are also welcome to talk with other foster parents to see what they have done. We do know there are some foster parents who do claim foster children on their taxes, but please consult a professional, as tax laws are constantly changing.

What we can say is that foster care monies you receive from Community & Family Services are a reimbursement and are not considered taxable income and therefore are not reported as income.

That being said, when it comes to Respite, if you have done Respite and have received money directly from the state, they consider that as taxable income, so they will send you a form to use to file with your taxes. If you have done Respite and been paid directly by our agency, the money is considered a reimbursement and is not taxable.


---
Just a little reminder..... PLEASE let our Licensing Department know when there are any changes in your family status. Examples of this are adoption, biological child moves out of the home (or back in) for any reason, or a biological child is born. Thank you in advance!
---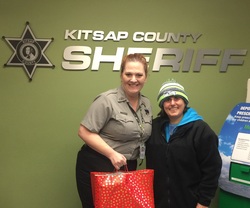 Community Support
A special THANK YOU to the Kitsap County Sheriff's Office for their help with preparations for our Christmas celebrations this year! It's so great to be able to support and partner with different agencies throughout our community to provide and care for foster children & families!

---
---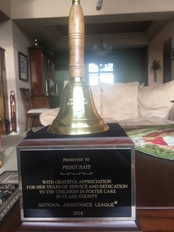 CFSF Employee Earns National Award!
Congratulations to Peggy Hays, our Region 6 Development Coordinator (Vancouver area) for receiving the "Assistance League National Operation School Bell Award"! This award is given to honor those who "have a direct, powerful and positive effect on Operation School Bell in a chapter's community". Operation School Bell "provides new clothing and literacy supplies to foster children in Vancouver, Evergreen, Washougal and Woodland. Assistance League of Southwest Washington members serve as liaisons with the schools, working with staff to identify needs, purchasing the garments and supplies, delivering them as requested". Congratulations and thank you Peggy for making a difference in the lives of foster children in your community!
---
---

A note from one of our Foster Parents regarding the Christmas Party......

" The party was wonderful! My family had a great time. It was so nice to meet a few people and to see all of the beautiful children. So
much food and such generous gifts for everyone. What a great Christmas for the kids. I'm not sure who or how to thank everyone at
CFSF! "


Thank you for the many hands that go into making Christmas a little extra special for our Foster Families!



---

Thank you so much to everyone that came to volunteer, participate, support and enjoy our 6th Annual "Cars for Kids" Car Show Fundraiser last Saturday! We had so much fun and we are beyond blessed with the amazing community that we live in, our foster parents, volunteers and amazing kiddos! Thanks again and we will see you next year!



---

Sleep Train's Annual Pajama Bowl
April 24, 2016

CFSF will had a team again this year! The money raised from this activity helps support Lake Days and other special events. Nearly $10,000 was raised this year! Thank you for your donations making this such a successful event! For more information please contact Celeste at dice@cfsf.net

---
---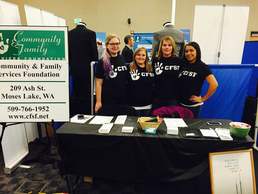 MOSES LAKE EXPO

Our Moses Lake team represented CFSF at the Moses Lake Chamber of Commerce Business Expo on January 19, 2016 and it was a blast! We were very impressed with the amazing turnout, huge community involvement and the amount of interest we received in regards to what CFSF is all about! Well done team!
---
---


What did we at CFSF do in 2015? Here's a peek into the work behind the scenes:

Maintained licenses and served 187 homes

Licensed 57 new or transferring homes, which offered 136 beds to kids in need

Placed 430 children into our homes, averaging of 225 children fostering in our homes each month

Saw 33 adoptions finalized for our families


Supported our families with 1745 days of respite

Our homes provided 7702 days of Receiving Care

Our Case Aides offer 10,283 hours of supervision (in-home, community)

Visitation hours for 2015 totaled 8372

The above wouldn't have been possible without all of us (staff and families) working together. Let's give ourselves a quick pat on the back, take a breath and keep working. We are making a difference!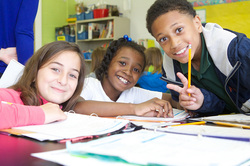 ADOPTION UPDATE:
In 2015 we had 33 ADOPTIONS!!! This brings the total to 269 kids adopted through CFSF. Thank you to all the people who have been involved in making it possible for these kids to have a forever home! Your countless hours and dedication have not gone unnoticed! Thank YOU for making a difference!
---